Hyundai Genesis
3 Passenger Sedan – $700

Mercedes Benz Viano
(VIVIANE) – $1,000
(max 6 players)

Mercedes Benz Sprinter
(BOLT) – $1,300
(max 10 players)
OUT'n'BACK Pub Crawl Tours
The Best Outback Fun
---
Ladies and gentlemen, let us introduce you to the only Chauffeur driven outback Pub Crawl in the Territory!
---
Now that we have your attention, this unique and outrageously fun day tour is the perfect solution to entertaining those visiting friends and rellies – or a close bonding day out with your mates!
Our cool and comfortable Mercedes Benz Sprinter (known affectionately as BOLT) and Chauffeur will guide you on this trailblazing outback adventure (around eight hours) to some of the most infamous and iconic pubs in the Territory.
There are two hilarious Pub Crawls to choose from – souvenir stubbie cooler included – use it as a badge of honour!
Mercedes Benz Sprinter (BOLT) – max 10
$1,300
Mercedes Benz Viano (VIVIANE) – max 6
$1,000
Hyundai Genesis 3 Passenger Sedan
$700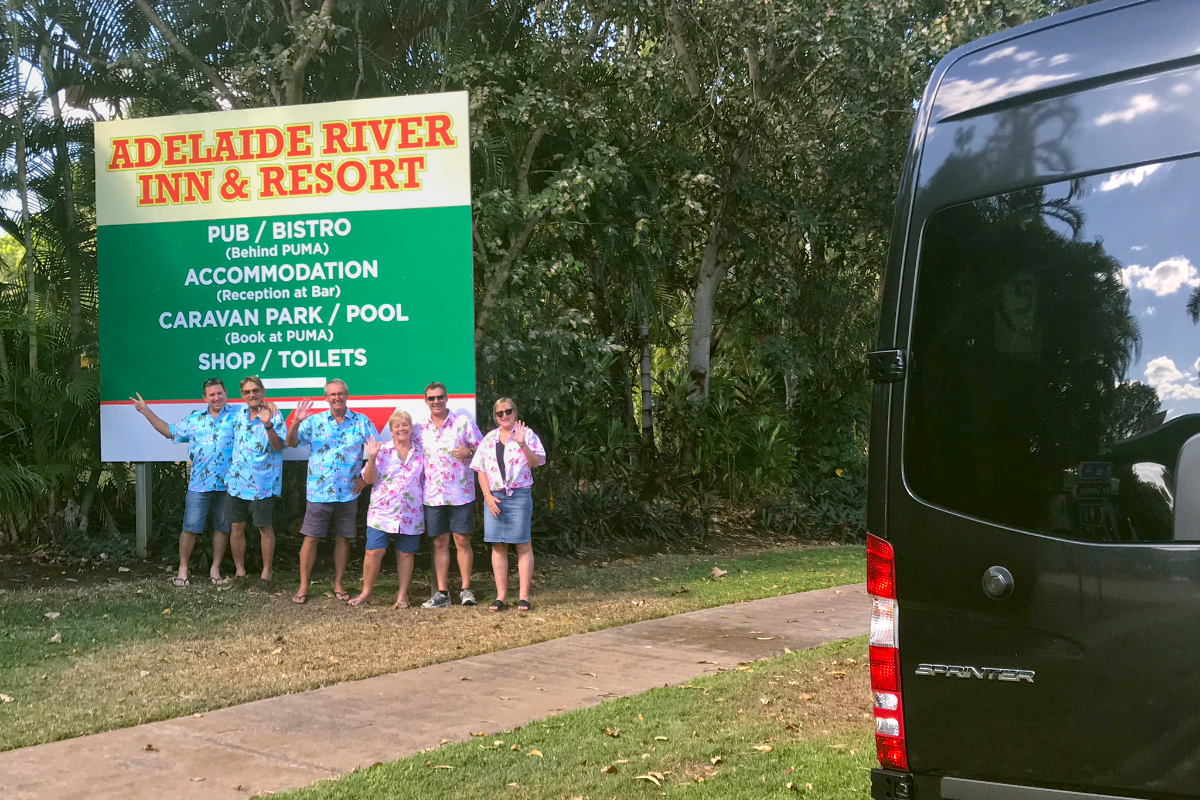 Adelaide River Run
| | |
| --- | --- |
| Howard Springs Tavern | Litchfield Hotel |
| Adelaide River Tavern | Lake Bennett Tavern |
| Noonamah Tavern | Humpty Doo Tavern |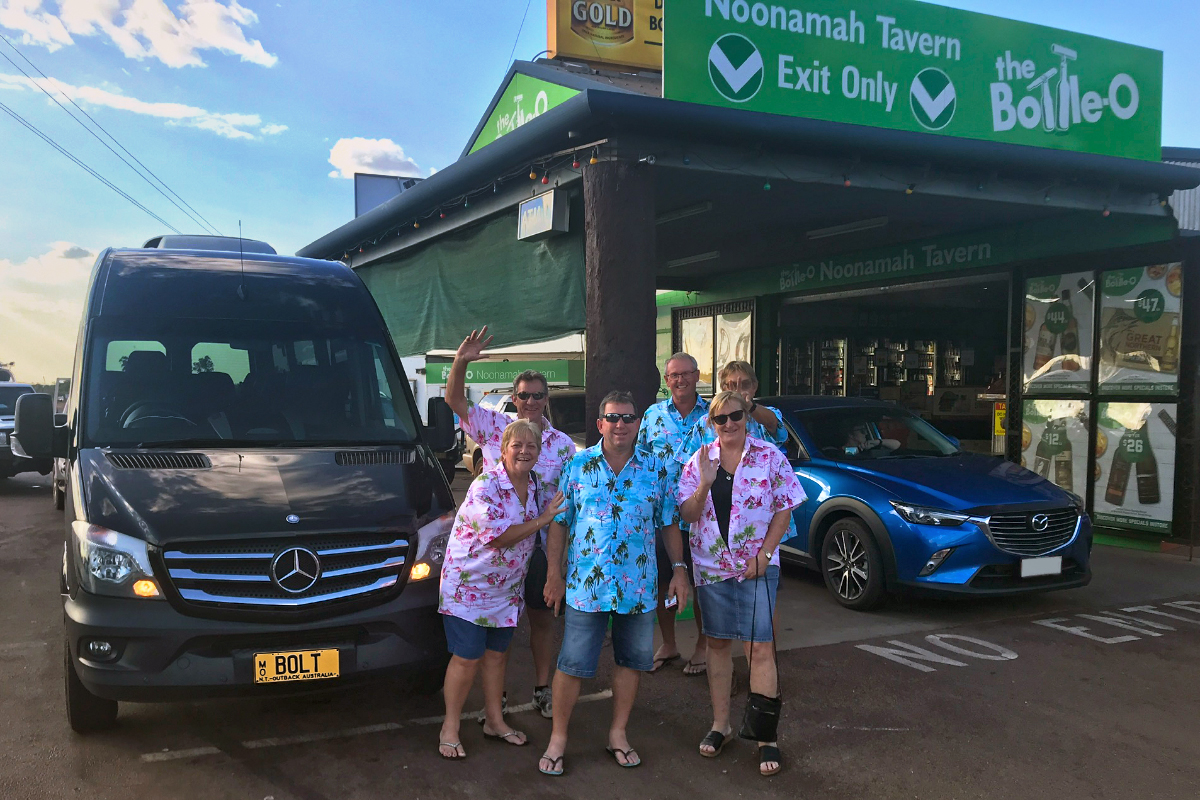 Dundee Day Trip
| | |
| --- | --- |
| Berry Springs Tavern | Sandpalms Hotel |
| Dundee Tavern | Darwin River Tavern |
| Noonamah Tavern | Humpty Doo Tavern |
What do you get? (We're glad you asked!)
---
| | |
| --- | --- |
| Stubby Coolers | Free to all members of your touring party upon check-in at your designated pickup point. |
| Esky and Ice | Refilled on a regular basis and as required throughout the day. |
| Vehicles and Drivers (not to keep!) | Ride in style as our Mercedes Viano (VIVIANE), Sprinter (BOLT) or Genesis Sedan takes you and your crew to some of the NT's finest Outback Pubs in total luxury and style (always important, even if not necessary). Our fully accredited CPV (Commercial Passenger Vehicles) Vehicles and Drivers (or steering wheel attendances as they are affectionately known) will leave you nothing to do but sit back, enjoy the journey and especially the stops along the way. |
What to bring
---
| | |
| --- | --- |
| Refreshments | Just enough to kick off your day – cans, stubbies and keep-cups only please. For your safety and the rest of the gang, wine glasses and all other 'open top' glasses are not allowed in the vehicles. |
| Courage | Plenty of Courage! |
| Shoes | Preferably closed-in shoes as we are heading to the dusty outback but that is up you, just make sure they are your bestest drinking boots! |
Pub Crawl Terms & Conditions
There will be a $200 deposit fully refundable at the end of the day, this is in case someone has a 'moment' and the vehicles require a professional clean or there is some damage etc. Pre bookings of at least 5-7 days in advance to ensure availability and confirmation of booking to avoid disappointment. All bookings are only confirmed once pre-payment is received, 15% non-refundable deposit required 48 hours in advance to ensure availability. Full payment must be paid before departure of the day of the OUT'n'BACK Pub Crawl. All above prices are direct prices only and subject to change. Any deviations are at extra cost and will be pre-quoted as and when requested. All vehicles waiting time is charged at $100 per hour (or part thereof in 15 minute lots). All major Credit Cards, EFTPOS and Cab Charge accepted. For Corporate Clients only, invoices will be issued per booking and payment is within 7 business days.
Please also review the full OUT'n'BACK Limos Service Terms & Conditions.